Management Committee is the executive body and manages the operations of the network. It consists of representatives from BIC/CAS, representatives of TWAS, and directors of 6 CoEs. The role of Executive Director rotates annually among 6 CoEs. Secretariat implements the decisions made by the Management Committee and Advisory Committee under the leadership of an Executive Director. They work closely with CoEs, TWAS and other organizations, plan, organize and coordinate programs and activities.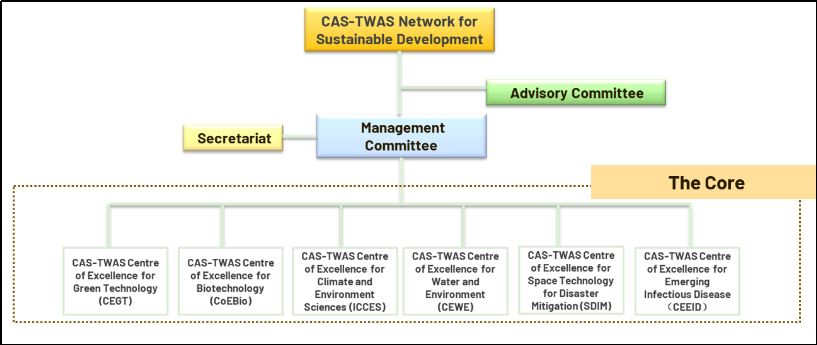 Organizational Chart
The core of the network is 6 CAS-TWAS Centers of Excellence.
2013. CAS, TWAS open ambitious centres of excellence, the centres focus on climate, water, space technology for disaster mitigation, green technology and biotechnology, infectious diseases. Each centre offers a range educational and training opportunities for scientists and engineers from the developing world, with the goal of advancing research, exchanging knowledge and building global networks. CAS-TWAS Centres of Excellence are in a key position in conducting training, joint research cooperation and policy studies and function as a powerful arm of TWAS in achieving its missions. Centres of Excellence promote the strategic studies in key areas with significant importance to the developing countries, it continues to build research cooperation among developing countries as well as South-North cooperation.
Today, 6 CAS-TWAS CoEs accumulated strong STI strength that can be used for achieving CTNSDG' mission.
People: over 300 researchers, Include distinguished scientists such as Academician, TWAS member, TWAS young affiliates, professors, young researchers and graduate students.

Network: International networks of various scientific fields such as climate and environmental sciences, space technology for disaster reduction, green technology etc. The existing networks cover over 20 developing countries.

S&T Achievements: S&T publications, free available data, successful technology transfer to developing countries. Such as functional probiotic resource database (FPCC) and biotechnology field database, alternative green biotechnology for water treatment.

Facilities: Advanced labs and facilities can be accessed, such as The Earth System Science Numerical Simulator Facility, named "EarthLab", is a numerical simulation system of the main Earth systems.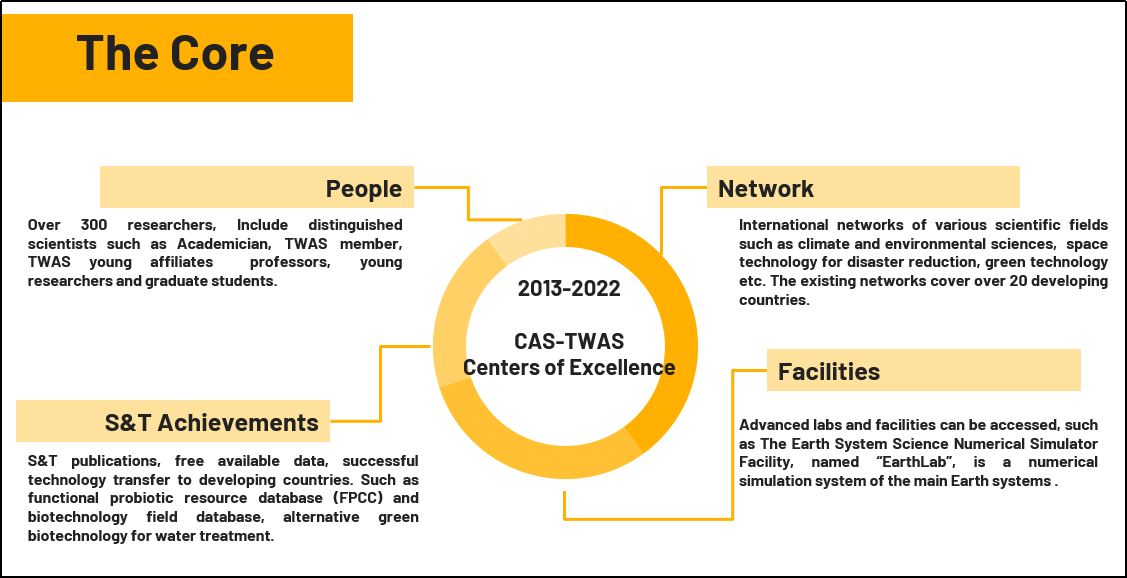 The Core: CAS-TWAS Centers of Excellence